I have been selling real estate for 23 years and have been in sales for close to 35. I got into real estate because my Dad had invested in a few homes and had a trying experience with the real estate agents. I was only 18 or 19 at the time but I made it a point that someday I would get my license and make a difference for consumers like my Dad. Time got the best of me and it took me another 20 years before I finally sat down for my real estate exam. However, the experience I gained in those twenty years in retail sales, door-to-door sales, a few years in multi-level marketing and sales, an Associates Degree in Retail Management and a Bachelors Degree in Business Management have all proven to be extremely valuable. I never let go of the dream of becoming a real estate agent and all my experience in sales was going to payoff real soon.
After just 6 years of real estate sales working for a major franchise, it was time to make a move. As a salesperson and entrepreneur I always believed in the philosophy of putting the customer first. However, I learned quickly just how difficult that would be under a corporate franchise. There was limited to zero flexibility when it came to negotiating real estate commissions and the huge fees they charged were a large burden to overcome. So I ventured out on my own and started Mohawk Valley 1st Choice Realty.
This venture met great resistance from many in the real estate community because one of the first things I implemented was a flexible commission plan. I called it FlexCom. It allowed me and my staff to sit down with the selling client and develop a marketing plan that fit their needs. We had offered plans from 4% to 6% with many variations in between. I quickly learned just how deep rooted the corporate world was in real estate and how hard they would fight to keep their piece of the pie, or in most cases - the entire pie. Many complained that they hadn't received a raise in years and didn't need someone working to cut their incomes. I simply didn't see it that way and any attempt to explain otherwise fell upon deaf ears. So I will show you what I would show them. The average sales price of homes sold in the United States.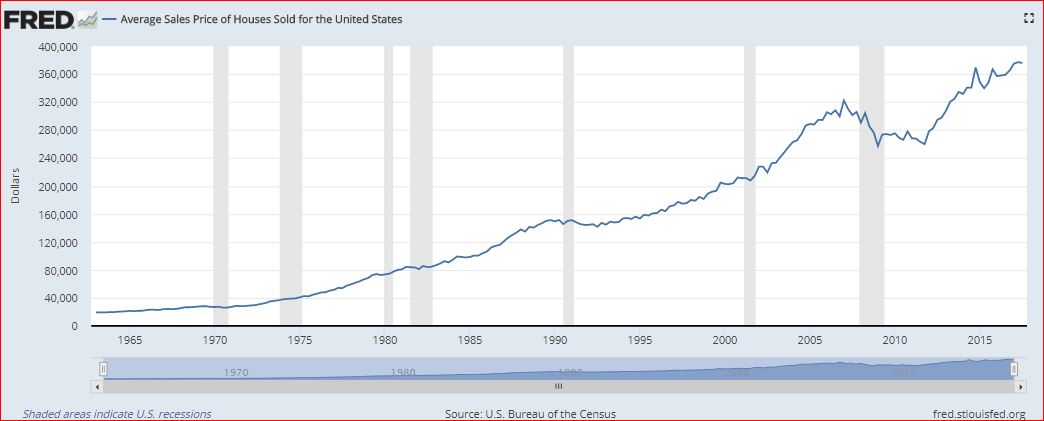 When I arrived in real estate in 1995 the average sale price nationally was in the area of $158,000. In 2017 the average sold price had climbed to approximately $375,000. Wow! That is not bad for just over twenty years. And they say they haven't had a raise. Really! Lets assume during that time frame real estate agents were charging a commission rate of 6%. In 1995 the commission earned on the average priced home was $9,480 and in 2017 it grew to a paltry $22,500. That is a dramatic increase of approximately 140%. I understand that we are looking at national numbers here, but I can guarantee you that what ever region you are living in, the average sales price of homes has grown significantly. The next argument sent my way was that I wasn't comparing apples to apples. Their position was that the commission earned on the sale of a $158,000 was the same in 1995 as it is in 2017. Therefore, they have not received a raise over that time frame. Point well taken. However, in 1995 to earn $100,000 in gross sales revenue you would have needed to sell 10.5 homes. In 2017 to reach that $100,000 threshold you would only need to sell 4.4 homes. Hence, in 2017 a real estate agent has the ability to earn a very nice income in a much quicker time frame than in years past.
In closing, in 2017 residential real estate brokerage & management companies had generated an amazing $200 billion in revenue. It is a profit machine gobbling up the hard earned equity of homeowners across America. It's the reason corporate giants like Realogy Holdings Corp. owns multiple real estate franchises like CENTURY 21, Coldwell Banker, Coldwell Banker Commercial, Better Homes & Gardens Real Estate, ERA, Corcoran Group, Sotheby's International, NRT and many other subsidiaries. There is a great deal of money and power controlling the real estate industry. It may be time to pass some of that on to the consumer. What do you think?
Coming soon: Find out what you can do as a consumer to change things in your favor.